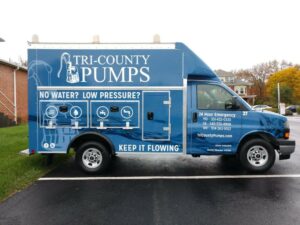 Tri-County Pump Service is Hiring!
Whether you are a skilled technician or just starting out in the plumbing, water treatment, and well pump industry, we invite you to join our team!
About Us
Tri-County Pumps has been providing customers unbeatable plumbing, water treatment, well pump, and septic service for more than 25 years. Family owned and operated since 1991, we are devoted to providing every customer throughout select Maryland, Virginia, and West Virginia counties the best in high-quality well pump and water treatment services and customer care.
Why join our team? As a Tri-County Pumps Employee you will be eligible for:
Exceptional Benefits
Paid Vacation
Opportunities for Advancement
Continued Education
Now Hiring Plumbing and Well Pump Apprentices
Entry-level Well Pump Apprentices work alongside experienced technicians to troubleshoot, repair, maintain, or install pipes, fixtures and other plumbing related components used for water distribution and wastewater disposal.
 Responsibilities
Assist in the basic troubleshooting of Well Pump Systems.
Assist in repairing or replacing Well Pump Systems.
Perform Plumbing related service calls appropriate to experience.
Create Invoices.
Complete required service call documents
Properly document service calls by taking pictures.
Write descriptions of work and recommendations of work.
Perform short scale estimates and quotes.
Properly keep stock and good care of service van.
Will gain proficiency using plumbing tools, materials, and equipment.
 Qualifications 
No experience necessary. Willing to train and educate highly motivated individuals looking for a career in the plumbing and well pump industry!
High school diploma or equivalent; trade school desirable, but not required.
Willing to obtain Water Samplers Certification
Willing to participate in an apprenticeship program
Good mechanical and technical skills; interested in gaining experience reading technical designs and blueprints.
Willing to learn how to troubleshoot equipment.
Interested in learning about piping and ventilation systems.
Ability to work on call rotating hours.
Strong customer service, listening, interpersonal and communication skills.
Contact us at 301-432-0330 or Email your interest to
brittani@tricountypumps.com
---
If you want to join a professional team and have the skills to add to our diverse plumbing services, contact us today.