Go Green with the Most Modern Agricultural Watering Solutions in Maryland, Virginia and West Virginia
Tri-County Pumps offers a wide variety of solutions tailored to agricultural use. We make it easy to irrigate your land, water your livestock and access well water on demand in an affordable and energy-efficient manner. With fast 24/7 emergency service, you can count on us to install, maintain and repair your critical systems and preserve the productivity of your property's barns, fields, and houses.
Automatic Water Feeders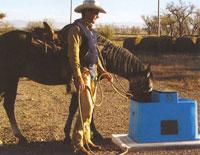 Traditional water feeders date back to the troughs of antiquity, and their efficiency reflects that fact. Our automatic water feeders allow you to dispense water to your livestock as it is needed, minimizing the amount of unused water wasted through the process of evaporation. This is a modern, practical solution that makes things easier for your animals and your budget alike.
Constant Pressure System
Our variable rate submersible pump system is designed to give you complete control over your desired level of well water usage. Benefits include "city-like" pressure from showerheads and faucets, higher-powered irrigation, lower installation costs than traditional systems and built-in safeguards to protect your pumps from damage. Additionally, these systems completely eliminate pressure spikes and drops at lower GPM usage.
Yard Hydrants
We will help you pick out and install the right yard hydrants for your property. Our products are frost-resistant, durable and cost-effective hydration delivery solutions that give you access to water anywhere on your property.
Solar Well Pumps
Pumping water from the earth is an energy-intensive process. Because of this fact, installations have traditionally been limited to being near a property's power grid. With the advent of solar well pumps, this restriction has been eliminated, allowing you to pump water anywhere while avoiding ongoing operating costs. Solar pumps have the additional benefits of being easy to install and maintain, with a modular design that makes it easy to keep up with future technological innovations. This is a truly green solution for any agricultural application.
Are you looking to reduce the carbon footprint of your farm or ranch? Give us a call today at (301) 432-0330.