Property Sale Inspection Services in MD, VA, and WV
Property Sale Inspection Services
Are you a Realtor who struggles with consistency in service or appointment commitment for your home inspection needs? When it comes to the water cycle of your home we've got you covered. We offer the following property sale inspection services:
Water Testing
Water Well System Inspections
Perc Tests for Property
We have a few pointers here to help you make these inspections go smoothly.
Try to assign one point of contact for our staff to work with. This will help keep communication and scheduling clear. Also, provide the billing information for the paying party.
If we are servicing your septic tank…

Please contact the health department for a septic plat or for a nominal fee we can obtain the plat on your behalf. If the septic location is unknown Tri-County has locating options for an additional charge.
Please print out the following PDF and have it signed for our technician when he gets there.

If we are running a water test, please reference the chart below to help you determine your time frame to receive results for testing. *Note, water samples can be expedited upon proper request.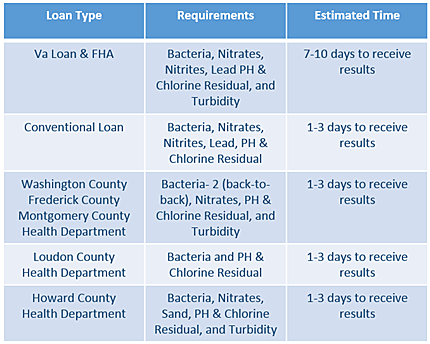 Plan an Inspection Today
To schedule a property inspection for a future date, please fill out the form below!